Save money and make cocktails at home with TGI Friday's Ready-to-Serve cocktail mixes.
Add ice, throw the mix in the blender and serve. Flavors include Mudslide, Margarita, Pina Colada, Orange Dream, Strawberry Daiquiri and Strawberry Dream.
Purchase the TGI Friday's cocktails mixes at most retailers including liquor stores and some grocery stores. Walmart may sell it as well.
TGI FRIDAY'S BLENDERS...
Just add ice and blend!
Margarita
Tequila, Triple Sec and natural lime flavor make this authentic recipe a winner. Muy bueno!
Mudslide
A creamy blend of chocolate and coffee flavors enhanced with rum. Delicious decadence!
Amaretto Mudslide
You love creamy mudslides -- Enjoy everything you love about mudslides with a sweet amaretto taste.
Raspberry Chiller
A delicious blend of sweet raspberry, a touch of lemon and vodka makes this a refreshing treat.
Strawberry Daiquiri
A tropical treat made of natural strawberry flavors and rum. An instant vacation!
Strawberry Shortcake
A creamy concoction made with natural strawberry flavor, vodka and rum. Yum!
Pina Colada
A tropical favorite, made of natural pineapple and coconut flavors combined with rum. Escape to the islands!
Orange Dream
A frothy combination of sweet orange and natural vanilla flavors with just the right amount of vodka. Enjoy sweet dreams while you're wide-awake!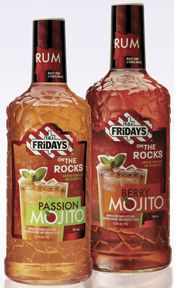 Available in exotic passion and tropical berry flavors, these new ready-to-serve Flavored Mojitos are made with natural flavors, juices and rum. The T.G.I. Friday's Flavored Mojitos are part of the 'On the Rocks' line of T.G.I. Friday's ready-to-serve cocktail mixes, which includes Margarita, Long Island Iced Tea, Mudslide and others. Suggested retail prices are $12.99 for the 1.75L, $6.99 for the 75Oml and $1.99 for the 2OOml.